Helium Advertising Balloon
Advertising Balloons Made in USA!
Advertising Balloons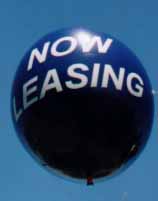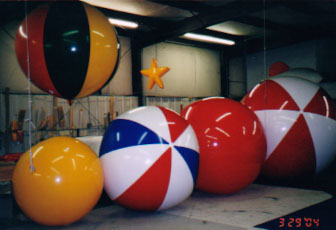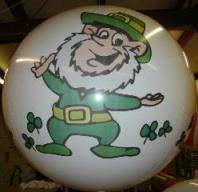 Email Tom for Helium Balloons!
Call 1-800-791-1445 for Advertising Balloons.
Advertising blimps: Flying high to grab your attention!
Big advertising balloons
are ideal promotional tools that help you reach local traffic without blowing your budget. We know exactly how to make your business soar higher and higher! And we are happy to bring to you a wide range of outdoor promotional tools:
advertising blimps
in attractive colors and shape, advertising balloons that create stunning visual impact and a creative range of advertising inflatables in different shapes and sizes - custom made for you. Now you know where to click for high impact advertising blimps.
If you want to attract customer attention then come and explore the innovative world of our
advertising blimps
-a cost-effective and convincing way to woo your customers! We manufacture advertising blimps that are easy to use and provide a dramatic effect to your advertising campaign! They are durable, lightweight and easily inflatable. You will see your sales soar to greater heights as more and more customers notice these advertising blimps!
You can install these
advertising balloons
at places where visibility will be huge and you would love to draw in the crowds! We have advertising balloons custom made to suit your business preferences and the image of your company, brand/product. We also provide you with advertising blimps in all sorts of sizes!
You can install our indoor remote control blimps that are perfect to showcase your brand/product strikingly within stadiums hosting sporting events, tradeshows, concerts and other such indoor events! Indoor blimps can range from 17ft-30ft in height!
You also have the option of using our aerodynamically efficient
advertising blimps
that fly high in the sky projecting your brand/product from every angle from a great distance! Your customer just can't afford to miss them! These outdoor blimps range from 11ft-30ft or more in length!
We also manufacture custom shape balloons and giant helium inflatables. We have advertising balloons in a huge assortment of bright, dazzling and visually appealing colors to attract attention for sure!
Install our giant
advertising balloons
today and be sure to generate instant traffic! Check our websites for more product details.
Please call 1-800-791-1445 for Advertising Balloons!
Giant Advertising Blimps

P.O.Box 30152, Phoenix, Arizona, 85046, US
phone: 800-791-1445 fax: 602-938-9496
Copyright 2012 by GiantAdvertisingBlimps.Com. You must obtain written permission to use any content on this page.